Almost One in Four DIFM Customers Upgraded Their Tires When it came Time to Replace Them
Almost 25 percent of DIFM customers interviewed in IMR Inc.'s Continuing Consumer Automotive Maintenance Survey (CCAMS) said when it came time to replace their tires, they looked for better performance or an upgrade.
"With tires, our CCAMS survey shows us that DIFM customers are very informed about the safety and performance issues related to tires," said Bill Thompson, president and CEO of IMR Inc. "Over 50 percent of those surveyed said they replaced their tires as part of preventative maintenance while another 24.3 percent said that when it was time to replace their tires, they were looking for better performance or an upgrade. These numbers suggest that shops could really grow their tire business by being very proactive with their customers as there seems to be a market for high quality performing tires."
For over 40 years, IMR Inc. has been an industry leader in automotive research and conducts syndicated and proprietary market research studies that focus on automotive parts and services, repair shops, technicians, accessories and vehicle technology trends. To find out how IMR research can help your business, call 800-654-1079, e-mail Info@AutomotiveResearch.com or visit AutomotiveResearch.com.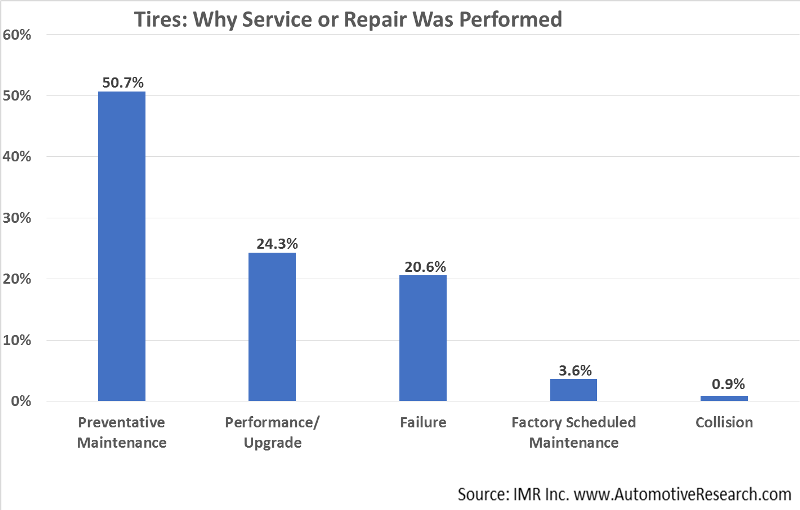 CCAMS
,
Continuing Consumer Automotive Maintenance Survey
,
DIFM
,
Preventative Maintenance
,
Tires
Related Insights
Contact Us