Lack of Performance or Failure Primary Reasons DIYers and DIFM Customers Found They Needed Temperature Control Service According to IMR's CCAMS Study
A vehicle not performing well, an indicator light being on or the vehicle simply not working were the primary reasons both DIYers and DIFM customers found out they needed service or work related to temperature control products. However, according to IMR's Continuing Consumer Automotive Maintenance Survey (CCAMS), some DIYers and DIFM customers were influenced to have their temperature control parts and accessories checked when they received marketing communication from their service provider.
"With temperature control products, a lot of DIFM customers are bringing their vehicle in for service because it is not running well or the vehicle has stopped running all together" said Bill Thompson, president and CEO of IMR Inc. "However, a nice percentage of both DIYers and DIFM customers said they responded to some type of communication from their service provider related to temperature control products or cited seasonal maintenance as a reason for temperature control service. Based on this data, there seems to be a preventative maintenance marketing opportunity for repair facilities relating to temp control parts. Shops that put together an aggressive plan with their customers will have a great opportunity to grow their temperature control service business."
For over 40 years, IMR Inc. has been an industry leader in automotive research and conducts syndicated and proprietary market research studies that focus on automotive parts and services, repair shops, technicians, accessories and vehicle technology trends. To find out how IMR research can help your business, call 800-654-1079, e-mail Info@AutomotiveResearch.com or visit AutomotiveResearch.com.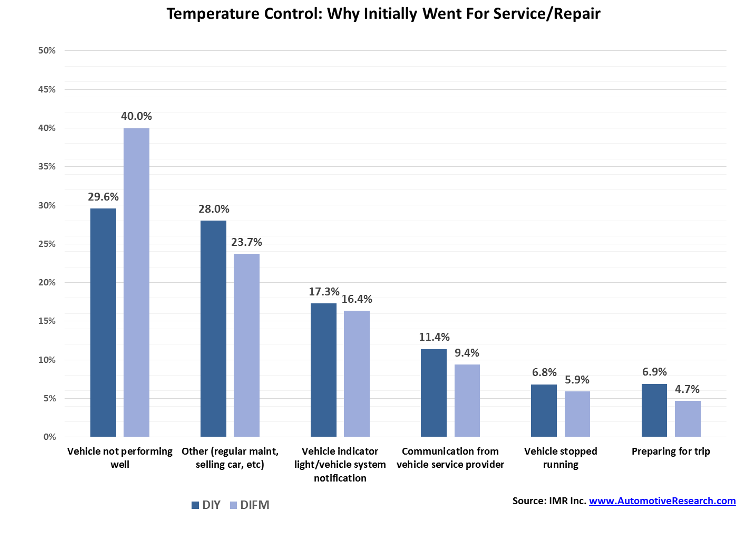 DIFM
,
DIY
,
Temperature Control Products
,
vehicle performance
,
vehicles serviced
Related Insights
Contact Us