According to IMR Inc.'s CCAMS Study Failure No. 1 Reason DIFM Get Sensors Replaced on Vehicles
Failure is the main reason both DIY and DIFM customers get sensors replaced on their vehicles. According to IMR Inc.'s Continuing Consumer Automotive Maintenance Survey (CCAMS), 47.2 percent of DIYers and 56.1 percent of DIFM customers cite failure as the primary reason for getting a sensor replaced. The CCAMS study also shows that only 20.5 percent of DIYers replace sensors for preventative reasons while even less DIFM customers (16.3 percent) are preventative when replacing sensors.
"With an oil change or brakes, a lot of people know when it is time for service," said Bill Thompson, president and CEO of IMR Inc. "However, our CCAMS study reveals that when it comes to sensors, both DIYers and DIFMers wait for the that particular sensor to fail before having their vehicle serviced. As sensors become more and more prevalent on vehicles, independent repair shops and retailers will have a great opportunity to grow their sensor business with the proper plan."
For over 40 years, IMR Inc. has been an industry leader in automotive research and conducts syndicated and proprietary market research studies that focus on automotive parts and services, repair shops, technicians, accessories and vehicle technology trends. To find out how IMR research can help your business, call 630-654-1079, e-mail Info@AutomotiveResearch.com or call 630.572.0240 or visit AutomotiveResearch.com.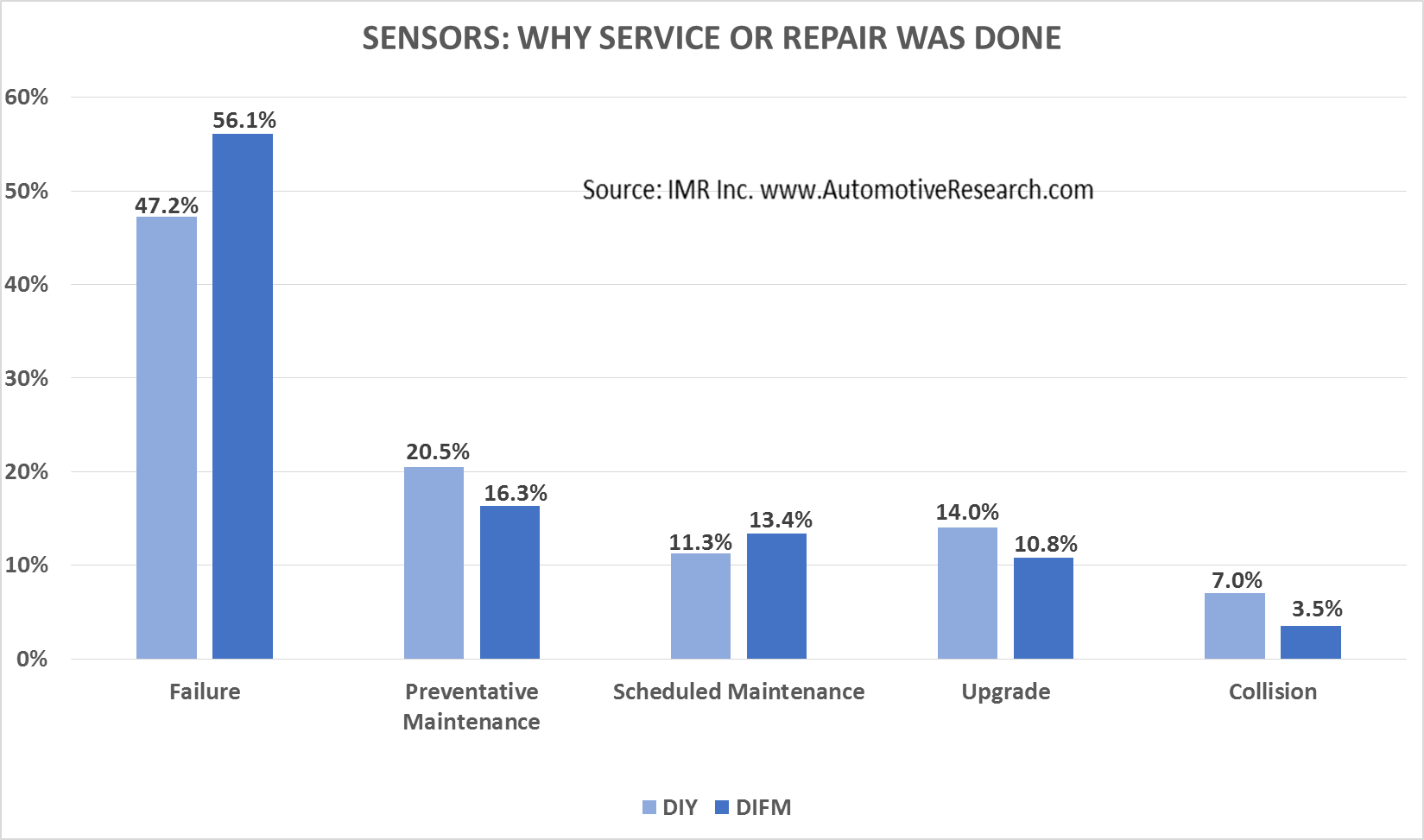 ---
Interested in automotive market research?
Call 630-654-1079 or submit a contact form to find out how IMR research can help your business.
---
If you enjoyed this article, please check out some additional posts
IMR Repair Shop Tracking Study Reveals Independent Repair Shops Favor the WD When it Comes to Wiper Blades for Asian Vehicles
WDs Get Transmission Rebuild Business No Matter Type of Vehicle According to IMR Repair Shop Tracking Study
IMR Inc.'s Repair Shop Tracking Study Reveals Independent Repair Shops Turn to WD in Higher Numbers for Sensors for Asian Vehicles than for Domestic Vehicles
DIFM Customers Shop around when it comes to Transmission Repairs According to IMR CCAMS Study
Seasonal Maintenance Primary Reason to Replace Wiper Blades According to IMR CCAMS Study
sensors
,
Vehicle
Contact Us
Related Insights