DIFM Customers Still Heading Back to the Dealer for Oil Changes
The new car dealer is getting a third of the oil change business from DIFM (Do-It-For-Me) consumers, according to IMR Inc.'s Continuing Consumer Automotive Maintenance Survey (CCAMS). The research also reveals that quick lube specialists (19.5 percent) and independent repair shops (18.5 percent) are getting about the same amount of DIFM business.
Auto parts retailers and discount stores/mass merchandisers dominate the market for DIY customers when it comes to oil changes, as they are combining for 82.9 percent of the business.
"It is no surprise that DIYers head to the auto parts store or the big box store to get their products for an oil change," said Bill Thompson, president and CEO of IMR Inc. "For DIFM customers, 33.4 percent are returning to the dealer for their oil changes but 29 percent of respondents are taking their oil changes to a business other than a dealer, independent repair shops or quick lube location, so there might be an opportunity for the latter two to attract more business pertaining to oil changes. In addition, dealers do lose share to the aftermarket as vehicles age, so although that 33 percent number is high, that number does change dramatically as the vehicles get older."
For over 40 years, IMR Inc. has been an industry leader in automotive research and conducts syndicated and proprietary market research studies that focus on automotive parts and services, repair shops, technicians, accessories and vehicle technology trends. To find out how IMR research can help your business, call 630-654-1079, e-mail Info@AutomotiveResearch.com or visit AutomotiveResearch.com.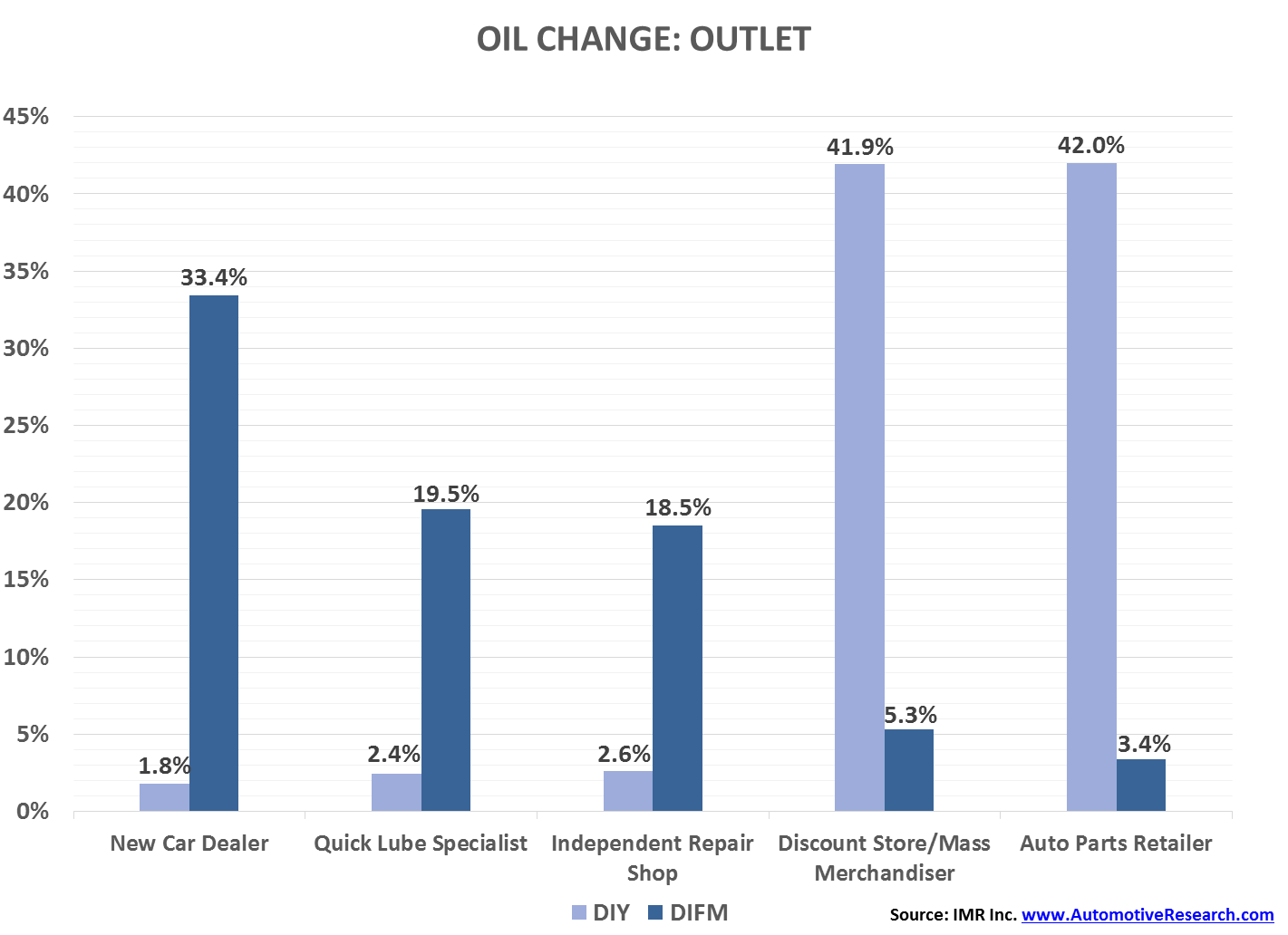 ---
Interested in automotive market research?
Call 630-654-1079 or submit a contact form to find out how IMR research can help your business.
---
If you enjoyed this article, please check out some additional posts
WDs the First Call for Shops for European Vehicle Filtration Products
WDs Primary Source of Filtration Products for Asian Vehicles by Independent Repair Shops
Independent Repair Shops Look to WDs for Filtration Parts for Domestic Vehicles
Preventative Maintenance No. 1 Reason for an Oil Change Among Consumers
When It Comes to Oil Changes DIYers Know What They Want so be Prepared
auto repair shops
,
Continuing Consumer Automotive Maintenance Survey
,
DIFM
,
new car dealers
,
Oil Change
,
quick lube
Contact Us
Related Insights