Almost 25 Percent of DIYers Do Some Research Before Purchasing Ignition Parts According to IMR Inc.'s CCAMS Study
When it comes to ignition parts, DIYers like to have some information before making a purchase. IMR Inc.'s Continuing Consumer Automotive Maintenance Survey (CCAMS) shows that 27.5 percent of those DIYers researching ignition parts visited a website before buying an ignition part while 21.6 percent of called a parts store before buying.
"Based on our CCAMS survey, we found that DIYers feel they need to be better informed when it comes time to replace the ignition parts on their vehicle," said Bill Thompson, president and CEO of IMR Inc. "With some parts, DIYers feel they can go right to the store and buy the part. However, with more complicated parts like temperature control or ignition, many DIYers try to gather as much information as possible before buying parts."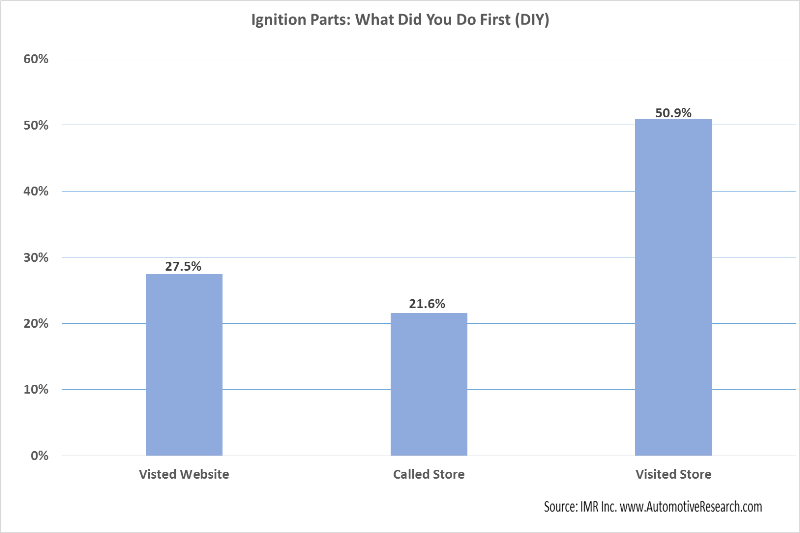 For over 40 years, IMR Inc. has been an industry leader in automotive research and conducts syndicated and proprietary market research studies that focus on automotive parts and services, repair shops, technicians, accessories and vehicle technology trends. To find out how IMR research can help your business, call 630-654-1079, e-mail Info@AutomotiveResearch.com or visit AutomotiveResearch.com.
---
Interested in automotive market research?
Call 630-654-1079 or submit a contact form to find out how IMR research can help your business.
---
If you enjoyed this article, please check out some additional posts
Claritas' PRIZM Premier Data Now Integrated into IMR Consumer Automotive Research
When it comes to Replacing Tires; Many DIFM Customers Get the Message About Preventative Maintenance
Almost One in Four DIFM Customers Upgraded Their Tires When it came Time to Replace Them
Most DIYers Head to the Store for Filtration Products
Independent Repair Shops Consistent with Filtration Purchases
DIYers Stay on Schedule When it comes to Replacing Filters
WDs Get 65 Percent of Filtration Business for Asian Vehicles
Preventative Maintenance Message about Oil and Filter Changes Resonates with Both DIY and DIFM Customers
Automotive Research
,
CCAMS
,
DIY
,
Ignition Parts
Contact Us
Related Insights