Almost One-Third of DIY and DIFM Customers Wait until Some Brake Failure before Bringing in Vehicle for Service
IMR Inc.'s Continuing Consumer Automotive Maintenance Survey (CCAMS) reveals that 32.4 percent of DIY customers wait until there is some type of brake failure before bringing in their vehicle for service while even more DIFM customers (37.3 percent), wait for failure before getting their brakes repaired.
"This research reveals that many motorists are waiting until something goes wrong before getting their brakes serviced," said Bill Thompson, president and CEO of IMR Inc. "With brakes being such a major safety issue, independent repair shops and retail stores could really develop customer trust by being proactive with their customers and developing a preventative maintenance plan for brake service that would save their customers money, while at the same time, keeping them safe.
"Another area that shops and stores could grow their brake business is in brake upgrades," continued Thompson. "Over 12 percent of DIY customers brought their vehicle in for brake performance upgrades, while 10.5 percent of DIFM customers upgraded their brakes when it was time to replace them. If shops and stores do a good job of explaining the value of higher quality brakes to their customers, there is a potential for a real increase in brake profits."
For over 40 years, IMR Inc. has been an industry leader in automotive research and conducts syndicated and proprietary market research studies that focus on automotive parts and services, repair shops, technicians, accessories and vehicle technology trends. To find out how IMR research can help your business, call 630-654-1079, e-mail Info@AutomotiveResearch.com or visit AutomotiveResearch.com.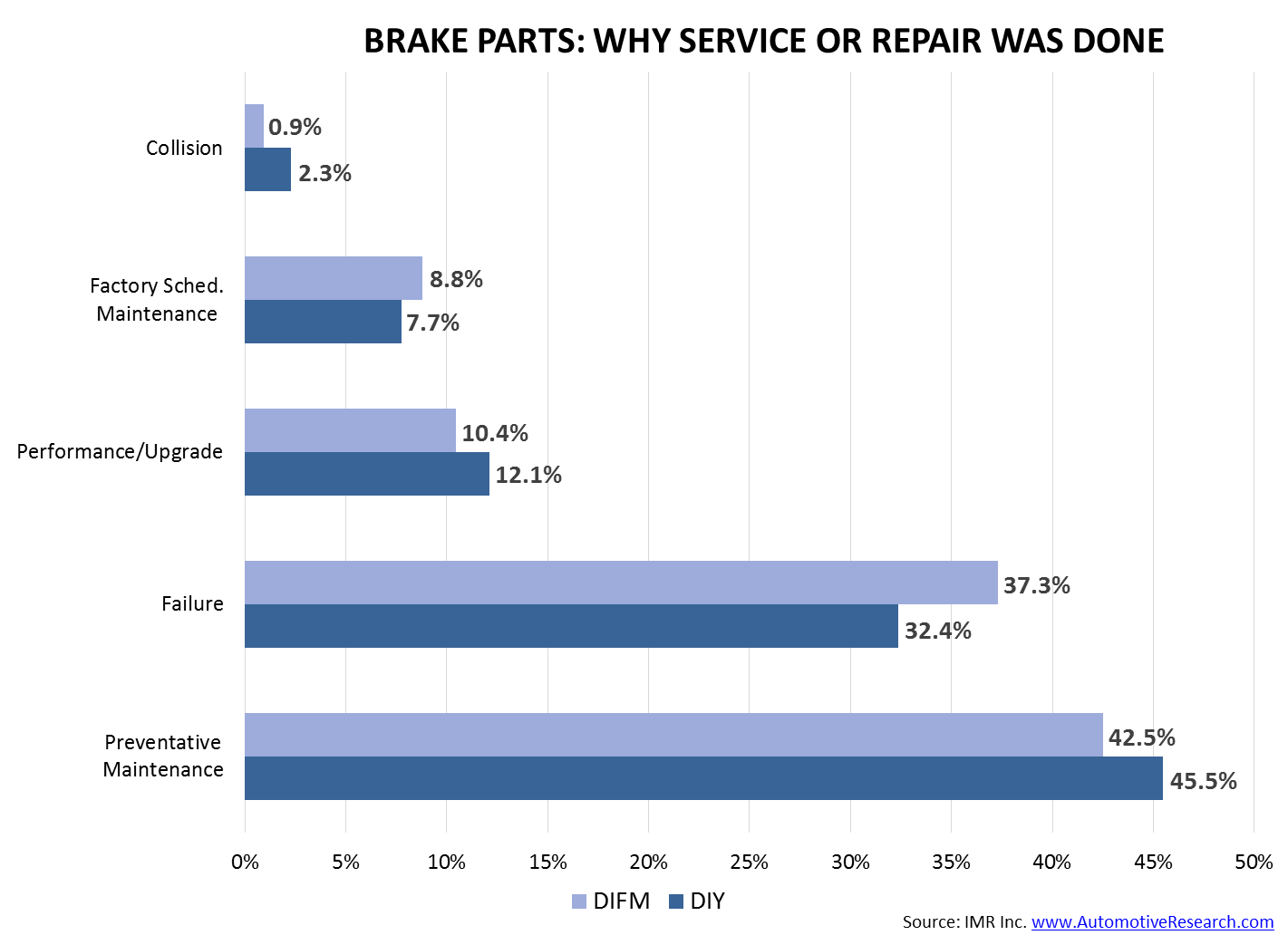 ---
Interested in automotive market research?
Call 630-654-1079 or submit a contact form to find out how IMR research can help your business.
---
If you enjoyed this article, please check out some additional posts
More Communication about Preventative Brake Maintenance May be Key to More Brake Business
Stores Need to be Knowledgeable as DIYers Looking for Information When It Comes to Brake Jobs
Brake Repair Business
,
Continuing Consumer Automotive Maintenance Survey
,
DIFM
,
DIY
Contact Us
Related Insights