Threats to General Repair Shop Business
In June, we asked general automotive repair shops about current and future threats to their business. Of the six current/future threats asked about, the cost of tools and equipment required to service late model vehicles and advanced technology on newer vehicles nearly tied for the highest threats to general repair shops overall.
However, as the size of the shop increases, the threat of the cost of tools/equipment decreases. For shops with 4 – 6 bays and 11+ bays, advanced technology on newer vehicles is actually the number one threat.
While equal access to telematics data was considered the 4th largest threat, one in five shops considered it a #1 or #2 threat while over half of smaller, 1 – 3 bay shops considered it the least threatening. For shops with 4 – 6 bays and 7 – 10 bays, equal access to telematics data was more of a threat than finding qualified technicians.
Only 15% of shops ranked new B2C online vehicle service models as a 1, 2 or 3. The vast majority of shops ranked that threat as a 5 or 6.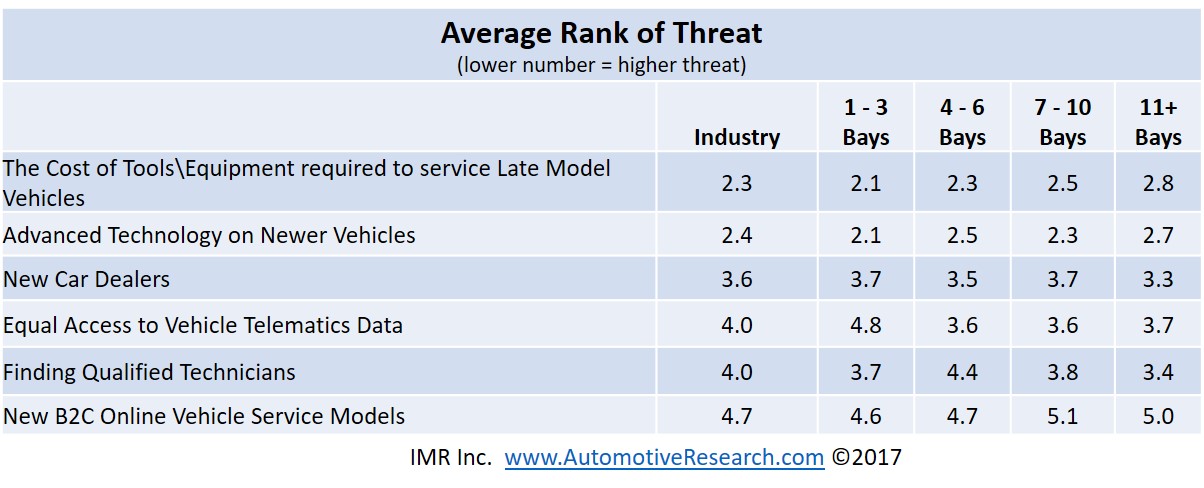 We also asked the shops if there were other threats to their business that we didn't mention. The most frequently cited responses were the high cost/price of parts, cheap foreign parts and low quality parts.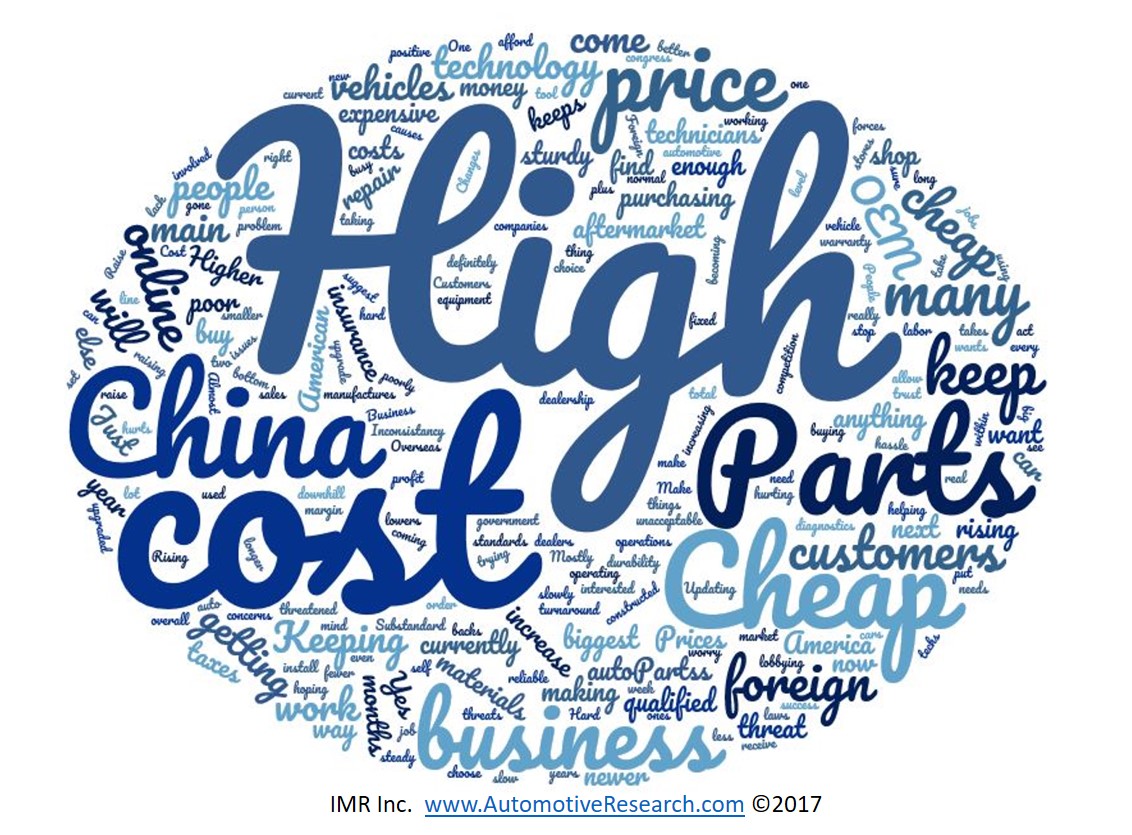 ---
Interested in automotive market research?
Call 630-654-1079 or submit a contact form to find out how IMR research can help your business.
---
If you enjoyed this article, please check out some additional posts
eTailing in the Automotive Aftermarket
Vehicle Not Performing Well Primary Reason Both DIY and DIFM Customers Get Ignition Parts Serviced
Repair Shops Make WD First Choice for Domestic Vehicle Ignition Parts According to IMR's Repair Shop Tracking Study
Almost 25 Percent of DIYers Do Some Research Before Purchasing Ignition Parts According to IMR Inc.'s CCAMS Study
Claritas' PRIZM Premier Data Now Integrated into IMR Consumer Automotive Research
When it comes to Replacing Tires; Many DIFM Customers Get the Message About Preventative Maintenance
Almost One in Four DIFM Customers Upgraded Their Tires When it came Time to Replace Them
Most DIYers Head to the Store for Filtration Products
Automotive Repair Shops
,
Business Threats
,
Cost of Tools And Equipment
,
Foreign Parts
,
Qualified Tehcnicians
,
Telematics
Contact Us
Related Insights