The Hispanic DIY Auto Maintenance & Repair Consumer
28.1% of the Hispanic population perform their own vehicle maintenance and repairs (DIY), compared to 23.3% of the total market. Purchases amongst the Millennial generation is also much higher relative to non-Hispanic Millennials. Hispanic DIY consumers are younger on average (average age: 38), with 56.4% being Generation Z or Millennials, compared to 37.7% for non-Hispanic DIY consumers (average age: 47).
In addition, Hispanic DIY consumers are more likely to be first-time purchasers (44.8%), purchase parts online (37.4%), and conduct research prior to purchasing a part (86.5%). Hispanic DIY consumers are more likely to say brand is important (50.6%) than non-Hispanic DIY customers (43.2%).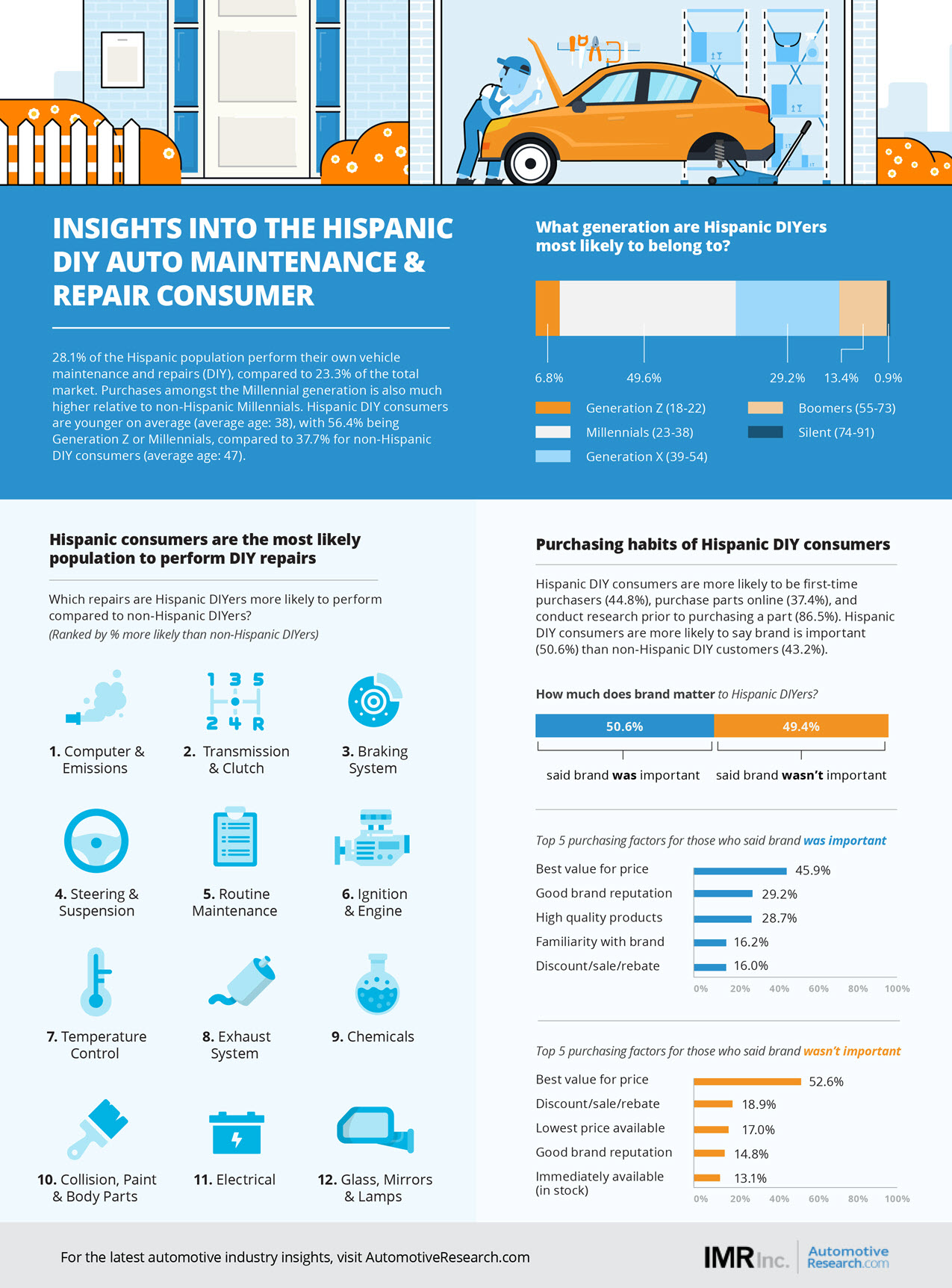 ---
Interested in automotive market research?
Call
630-654-1079
or submit a
contact form
to find out how IMR research can help your business.
---
If you enjoyed this article, please check out some additional posts
Consumers Delaying Vehicle Routine Maintenance
Part Delivery Times at Independent Automotive Repair Shops
Independent Auto Repair Shop Private Label/Store Brand Purchasing
Independent Auto Repair Shop's Competitor Perceptions & Differentiation
Independent Auto Repair Shop's Biggest Competitors
How Repair Shops are Investing in their Future
Electric/Hybrid Vehicle Service & Maintenance Trends
Millennial Automotive DIYers – Light Maintenance Products Consumer Profile
Repair Shop's Potential to Switch 1st Call Supplier
Automotive Consumer Statistics
,
Automotive DIY Millennials
,
Hispanic Auto Parts Purchaser
,
Hispanic DIY
,
Hispanic DIY Demographics
,
Hispanic Parts Purchase Behavior
Contact Us
Related Insights