2022 Update: Private Label/Store Brand Parts Purchasing by Independent Auto Repair Shops
In July 2022, we spoke with 500 independent automotive repair shops about their purchase frequency and use of private label brands as well as the reasons why they use private label brands.
For the first 8 months of 2022, private label part purchases at independent repair shops remained steady at an average of 36.2%. Smaller shops tend to purchase more private label brands (39.5%) than larger shops (35.9%). The percent of shops reporting they've increased their purchasing of private label brands has increased to 77.4% from 75.4% in 2021.

Over the next year, 75.8% of independent repair shops expect to increase their private label parts purchases, up from 73.6% previously.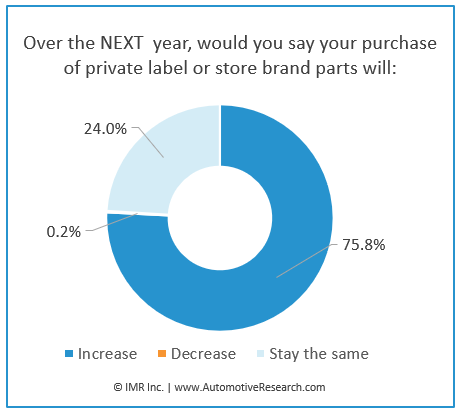 Independent auto repair shops cited inflationary pressure effecting their customers as the primary reason for the expected increase in purchases of private label parts. In 2020 and 2021, the pandemic drove customer uncertainty and behavior. In the 2022 survey, the pandemic was no longer mentioned as a driving factor. Notably, the majority of the shops that stated their customers were having financial difficulty due to inflation were the same shops that reported their customers were proactively asking for lower cost parts.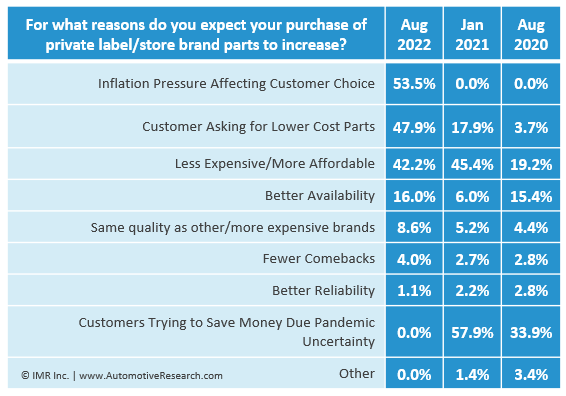 ---
Interested in Independent Auto Repair Shop Private Label/Store Brand Parts Purchasing Data?
Call 800-654-1079 or submit a contact form to find out how IMR research can help your business.
---
---
If you enjoyed this article, please check out some additional posts
Impact of Battery Electric Vehicle and Hybrid Electric Vehicle Repair and Service at Independent Repair Shops (Update 2022)
Current and Future Challenges for Independent Repair Shops – 2022
Effects of Supply Chain Disruptions on Independent Automotive Repair Shops
E-Commerce Purchasing Behavior at Independent Auto Repair Shops
Impact of Battery Electric Vehicle And Hybrid Electric Vehicle Repair and Service at Independent Repair Shops
The Importance of Private Label and National Branded Parts at Independent Auto Repair Shops
Update: Private Label/Store Brand Parts Purchasing by Independent Auto Repair Shops
2020 EOY Independent Automotive Repair Shop Health & Part Delivery Disruption Update
Private Label/Store Brand Parts Purchasing by Independent Auto Repair Shops
Delayed Vehicle Maintenance | Q1 – Q2 2020
Challenges for Independent Repair Shops and Technicians the Remainder of 2020 (COVID-19 Update)
Disruption in Auto Parts Availability Affecting Repair Shop Purchasing Behavior
Automotive Parts & Service Consumer Purchasing Behavior During an Economic Downturn
Automotive Repair Shop Pandemic COVID-19
,
Covid-19
,
independent repair shop parts purchasing trends
,
independent repair shop private label parts purchasing
,
National Brand Automotive Parts
,
private label automotive parts