IMR CCAMS Study Reveals DIYers Using Internet to Purchase Ride Control Products
One in five ride control DIYers surveyed said they bought their parts over the internet according to IMR's Continuing Consumer Automotive Maintenance Survey (CCAMS). Retail stores still received 34.7 percent of the ride control business from DIYers while DIFM customers (24 percent) chose the independent repair shop as their No. 1 source for ride control parts and accessories.
"If 20.8 percent of DIYers are purchasing ride control products via the internet then these vehicle owners feel they have enough knowledge to make an informed purchasing decision without having to go to a store," said Bill Thompson, president and CEO of IMR Inc. "Retailers and others that sell ride control parts online need to make sure they have their sites updated as well as offer DIYers thorough information online about their product offerings. We anticipate more and more DIYers buying their parts online so sellers need to be prepared."
For over 40 years, IMR Inc. has been an industry leader in automotive research and conducts syndicated and proprietary market research studies that focus on automotive parts and services, repair shops, technicians, accessories and vehicle technology trends. To find out how IMR research can help your business, call 800-654-1079, e-mail Info@AutomotiveResearch.com or visit AutomotiveResearch.com.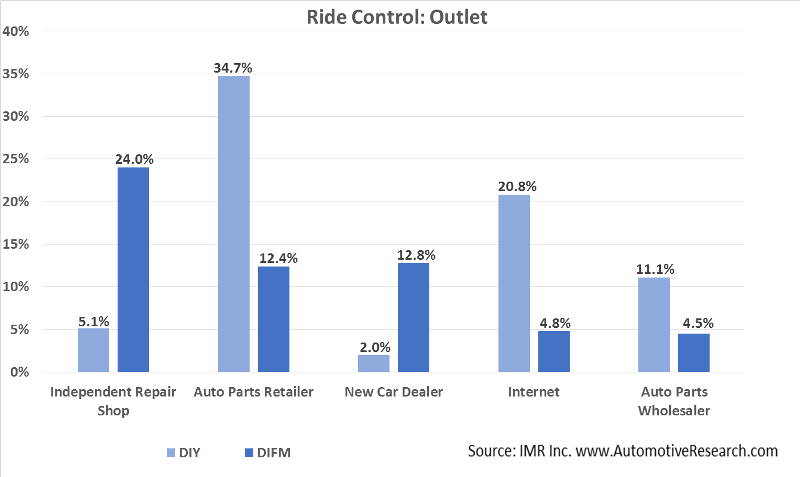 ---
Interested in automotive market research?
Call 800-654-1079 or submit a contact form to find out how IMR research can help your business.
---
If you enjoyed this article, please check out some additional posts
IMR Repair Shop Tracking Study Reveals WDs Get Majority of Ride Control Business for European Vehicles from Independent Repair Shops
Communicating Value of Ride Control Upgrades Could Be Big Business According to IMR CCAMS Study
IMR's Repair Shop Tracking Study Reveals WDs Get about Two-Thirds of Ride Control Business for Asian Vehicles
More Marketing to Customers Could Lead to More Ride Control Business According to IMR CCAMS Study
Most Repair Shops Head to WD for Ride Control Products for Domestic Vehicles According to IMR Inc.'s Repair Shop Tracking Study
Before Purchasing Ride Control Products, Most DIYers Do Their Homework According to IMR Inc.'s CCAMS Study
Dealers May Not Get First Call but Still Get Business from Shops According to IMR Repair Shop Tracking Study
Independent Repair Shops Called Retailers First More in 2015 According to IMR Inc.'s Repair Shop Tracking Study
DIFM
,
DIY
,
retail stores
,
Ride Control
Contact Us
Related Insights