The Importance of Private Label and National Branded Parts at Independent Auto Repair Shops (2022 Update)
IMR recently spoke with the person most responsible for making parts purchasing decisions at 500 independent automotive repair shops. Our focus was to understand their use and perceptions of private label and national branded parts.
20.8% of those responsible for making parts purchasing decisions said they typically know what brand is in the private label box. Notably, shops with less than 7 bays are more likely to know the brand in the private label box (21.8%) than shops with 8+ bays (16.4%)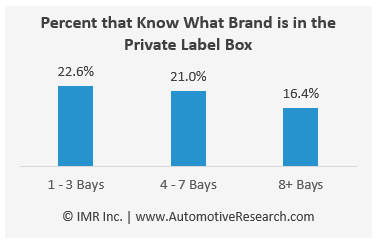 40.8% of independent auto repair shops said their 1st call supplier carried categories where the majority of the brands offered were private label with few national branded options. Of that 40.8%, 19.1% said they go to another supplier to purchase nationally branded products; 10.3% say they always/frequently do and 66.7% say they occasionally do.

When asked if they'd switch their 1st call supplier if they changed to primarily private label brands with limited national brands, 6.0% said they Definitely/Very Likely would. However, of the 59.2% of shops that said their 1st call doesn't have heavy private label branded categories, that number rises to 8.8% and another 13.5% say they would likely switch.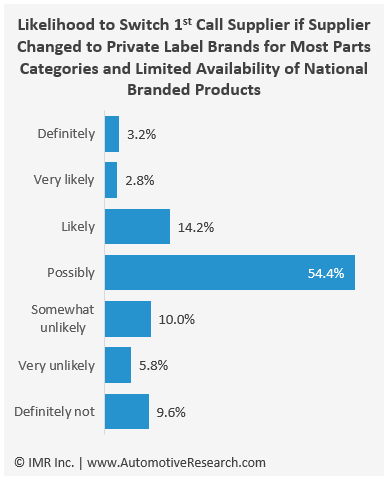 ---
Interested in Independent Auto Repair Shop Private Label/Store Brand Parts Purchasing Data?
Call 630-654-1079 or submit a contact form to find out how IMR research can help your business.
---
---
If you enjoyed this article, please check out some additional posts
Private Label/Store Brand Parts Purchasing by Independent Auto Repair Shops (2022 Update)
Impact of Battery Electric Vehicle and Hybrid Electric Vehicle Repair and Service at Independent Repair Shops (2022 Update)
Current and Future Challenges for Independent Repair Shops – 2022
Effects of Supply Chain Disruptions on Independent Automotive Repair Shops
E-Commerce Purchasing Behavior at Independent Auto Repair Shops
Impact of Battery Electric Vehicle And Hybrid Electric Vehicle Repair and Service at Independent Repair Shops
The Importance of Private Label and National Branded Parts at Independent Auto Repair Shops
Update: Private Label/Store Brand Parts Purchasing by Independent Auto Repair Shops
2020 EOY Independent Automotive Repair Shop Health & Part Delivery Disruption Update
Private Label/Store Brand Parts Purchasing by Independent Auto Repair Shops
Delayed Vehicle Maintenance | Q1 – Q2 2020
Challenges for Independent Repair Shops and Technicians the Remainder of 2020 (COVID-19 Update)
Disruption in Auto Parts Availability Affecting Repair Shop Purchasing Behavior
independent repair shop private label parts purchasing
,
National Brand Auto Parts
,
National Brand Auto Parts Trends
,
Private Label Auto Parts Brands
,
Private Label Auto Parts Trends
,
Switching 1st Call Auto Parts Supplier
,
What Brand is in the Private Label Box